Congratulations! You are an educated safety professional who understands that your rubber insulating gloves need to be periodically retested. Our Voltgard® Test Lab is the largest, independent NAIL4PET-accredited test lab for rubber insulating products in the United States, assuring you that your workers are in compliance with OSHA regulations and all applicable industry standards.
Saf-T-Gard can provide testing using 2 different methods, AC testing and DC testing.
Electricity 101 (AC vs DC): At a simple level, AC power comes from an outlet in the wall and DC power comes from stored energy in batteries.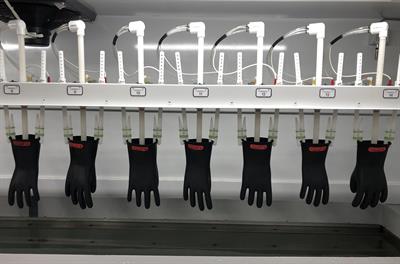 The Voltgard Test Lab recommends testing rubber insulating PPE as close as possible to the environment that it will be used. For certain applications, this includes DC Testing of rubber insulating gloves. The applications include, but are not limited to:
Electric vehicles (EV), both fully electric and plug-in hybrid
Renewable power generation (wind and solar particularly)
Electrified mass transit and transportation
If you are not sure whether you should have AC or DC testing, contact one of our specialists at 800-548-GARD (4273).
Ship products for retesting to:
Saf-T-Gard International, Inc.
Voltgard Test Lab
205 Huehl Road
Northbrook, IL 60062
Voltgard® DC Retest Forms
Voltgard® AC Retest Forms